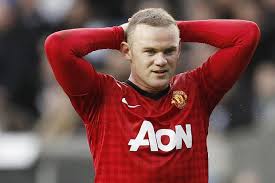 Wayne Rooney does not play today with Manchester United against Liverpool! Not due to transfer to Chelsea … but because he was injured again on the forehead!
An amazing Injury again! What happened to him?
Yesterday, Jose Mourinho, the Chelsea manager has indicated after his team's defeat against Bayern Munich last night in the European Supercup in Prague in a crazy match, both clubs had decided not to proceed with the transfer.
"For all sides, it's over. It is one thing, to say you want, you really want, but at the end … It's over. We have a good group, continued Mourinho. Samuel will bring us a new range of quality in the attack. "
Suddenly, David Moyes, Alex Ferguson's successor at Manchester said also on his side: "I really want him to be motivated, and score goals. Wayne is in a situation where he can become one of the greatest of United, with goals that he is able to register "
We hope he will not too often be injured…