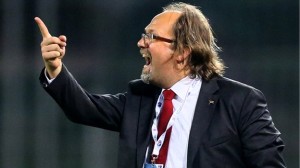 Malawi, still in the race for the final round of qualifying for the World Cup Brazil 2014 hosts on September 7 Nigeria, leader of Group F. Coach Tom Saintfiet eventually released the list that will challenge the Super Eagles. And no surprises, the usual group is still in place.
A high voltage meeting when we know the heated exchanges between the two technicians of the two countries in recent weeks.
Goalkeepers: Chaima Owen, Charles Swini.
Defenders: James Sangala, Moses Chavula John Lanjesi, Lucky Malata, Harry Nyirenda, George Nyirenda Limbikani Mzava, Foster Namwera.
Midfielders: Chimango Kayira Micium Mhone, Douglas Chirambo, Robert Ng'ambi, Peter Wadabwa, Phillip Masiye Dave Banda, Tawonga Chimodzi, John Christopher Banda.
Forwards: Robin Ngalande, Atusaye Nyondo, Gabadinho Frank Banda, Harvey Mkacha