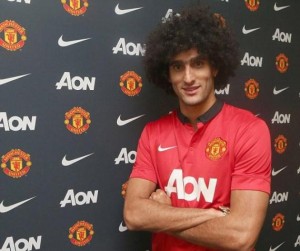 Fellaini was handed  an official transfer request at Everton's training ground early on Monday evening three hours before the window closed. Old Trafford manager Moyes said after the 1-0 defeat at Liverpool on Sunday that the club would try to bring in more players before summer window shut, but added: "I'm more than happy with the players I've got."
Fellani was signed by Moyes five years ago and was a regular first-team player for the Scot. Despite being a midfielder, he was used as an emergency striker during his debut season and scored nine goals.
The Belgian, who made his international debut in 2007, was also booked 10 times in his first 17 games, but avoided a lengthier suspension by attending a personal hearing with Keith Hackett, England's chief referee,  where the player gave his side of events but also promised to improve his behaviour.