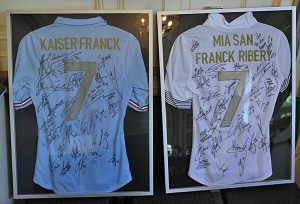 Franck Ribery voted "Best European Player" of the season was celebrated by his teammates on Tuesday Team France. The midfielder of Bayern Munich author of the treble Cup-League-Champion's league and who won the European Super Cup on Friday received gifts from his countrymen.
There are two team jerseys of France signed by all players of the workforce. One bibs "Kaizer Franck" which means "Emperor Franck", also the nickname of the player in Bavaria and another in which it says "Mia San Franck" which means "We are Franck."
Ribery therefore can ogle the "Golden Ball" in January.