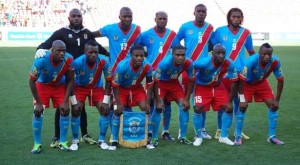 The coach of DR Congo adopted a list of 20 players from his first list of 29 men that will compete on September 8 against the Hawks of Togo in Lome (see list of Didier Six).
A team made up mostly of players from the local league. The staff consists of six players from Tout Puissant Mazembe, 2 from Vita Club, 2 from Dragons, among others. Absence of backbones such as Dieumerci Mbokani and Robert Kidiaba goal.
"At the level of the program, the departure of local players for Lomé is scheduled on Thursday, September 5 while the professionals will directly join the local group in Lome ", mentions Léopardsfoot site.
List of 20 players selected
1. Parfait Mandanda – Charleroi / Belgium
2. Lomboto Hervé – V Club / Ground
3. Kanyinda Tshini – AS Dragon / Ground
4. Mongungu Cédric – Evian TG / France
5. Ebunga Simbi – V Club / Ground
6. Kimwaki Mpela – TP Mazembe / DRC
7. Ungenda Muselenge – DCMP / DRC
8. Mbemba Mangulu – Anderlecht / Belgium
9. Kasusula Kilistho – TP Mazembe / DRC
10. Nkulukuta Miala – TP Mazembe / DRC
11. Youssouf Mulumbu – WBA / England
12. Cedric Makiadi – Werder Bremen / Germany
13. Distel Zola – Le Havre / France
14. Ntela Kalema – AC Leopards / Congo Brazzaville
15. Mputu Mabi – TP Mazembe / DRC
16. Bokanga Musau – TP Mazembe / DRC
17. Matumona Zola – 1 Agosto / Angola
18. Mbidi Mavuanga – DCMP / DRC
19. Monzel Otey – AS Dragon / Ground
20. Herve Ndonga – TP Mazembe / DRC