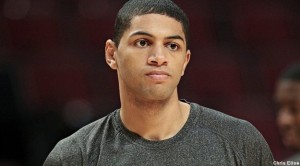 The Eurobasket 2013 begins on Wednesday in Slovenia. The Basketball team of France gets into the competition against Germany tonight at 19h GMT.
A few hours before the start of the meeting, Nicolas Batum has not hidden his desire to fight after 6 weeks of preparation.
"We were really looking forward to it. I must admit that the last 10 days have been very long. We've had enough! I want to get into the nitty-gritty. We will enter fully into this competition without preserving, because we cannot be immune to a nasty surprise. We will play against the Germans highly motivated. Be careful. It is a team with very good young players who play very well together, with a good leader (Heiko Schaffartzick) and well coached. We are careful, "said the Franco-Cameroonian in comments relayed by RMC.