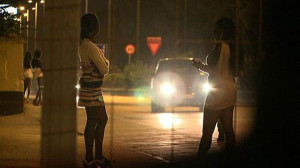 Takoradi sex workers have voice out that the Ghana Football Association is not being fair to them interms  of selecting stadium venues for Black Stars match. Speaking on
Happy FM
, the leader of the Takoradi sex Association made it clear that the Ghana FA must consider selecting the Esipong Stadium when selecting venue for the Black Stars.
According to the Association leader, sex business is going down in Takoradi and the only way to revive it is to let the Black  Stars start playing in Takoradi, with that, fans will visit there to watch the game and this will boost their business. According to reports, the Kumasi sex workers are demanding money from the Takoradi sex workers before they will be allowed to operate in the Garden City.
Even though sex business is not legalised in the country, sex workers always play major part in entertaining fans when there is
football matches in the country.