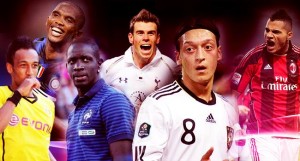 After the official closing of the summer transfer (September 2), FIFA (FIFA TMS) released data of the 2013 transfer window (editor's note, data concerning only the male pro football). Statistics covering transactions between January 1 and September 2. During this period, the structure has dealt with 10,454 international transfers for a total of € 2.556 billion.
Compared to last year, the number of transfers declined slightly or -0, 6% (editor's note, 10,513 transfers in 2012). The total amount of compensation (2, 556 billion), by cons, increased by 29% compared to 2012 (€ 1.988 billion).
Intermediates (managers) have rubbed their hands with an allowance which increased to 20% for 128 million Euros (107 million in 2012). Over two years (since 2011) the commission has increased by 80%.
The main movements of players were registered from Portugal to Brazil (132 transfers), Argentina to Chile (98), from England to Scotland (92), from Brazil to Portugal (72) and France to Belgium (60).
However, the order is not the same for the transfer fee flux. The largest flow was recorded between Spanish clubs who received 172 million Euros, and the English clubs for 38 players. Italian courses have touched 112 million for 25 players transferred to English teams. For their part, the English clubs received 107 million Euros (whose record transfer was that of Gareth Bale) Spanish clubs for 28 players sold. For ten players transferred to France the Italian teams have been EUR 99 million. With 32 players bought in Spain, the Italian football has paid 93 million Euros to the Spanish clubs.