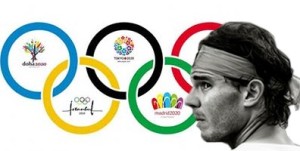 From the USA where he is for the Grand Slam in Flushing Meadows, Rafael Nadal ruled on the choice of the host city for the 2020 Olympic Games on Saturday in Buenos Aires.
The three cities bidding to host the IOC has chosen Tokyo. The Spaniard said he was disappointed by the setback of Madrid "It is very hard and tiring for us because the country and the city of Madrid worked hard to have a chance repeatedly, says the world No. 2 qualified for the final of the U.S. Open. (…) We believe that we deserved, I was disappointed because I felt we were well placed, the whole country was very involved, added Nadal who has trouble accepting the elimination from the first round of voting. I do not think it is 100% right that we are be eliminated in the first round while our rivals did not submit as many nominations as us".
The Spanish capital which has focused its case on "reasonable and responsible" Games, has also joined the star of FC Barcelona Leo Messi to defend its record. It was not enough to convince the IOC members who have voted for Tokyo in a final that was opposed to Istanbul.