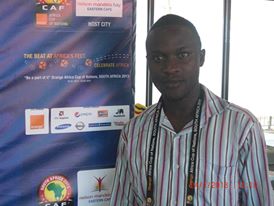 Sports writer Patrick Akoto today slammed at the Black Stars of Ghana, saying the goals made us blind because we have failed to criticise the performance of some of the players. According to him, goalkeeper Fatau Dauda was a waste, his timing was wrong and he believe Fatau could have saved  Sinkala's ball from entering the net.
Patrick continued that over elaboration on Dede Ayew  made him loose cheap balls. When asked which of the 10 qualified countries he would want the Black Stars to meet, he stated that, Senegal and Ethiopia will be suitable for the Black Stars.
Ghana could face teams like Burkina Faso, Ethiopia, Cape Verde, Senegal or Cameroon.
The final seedings will be based on the latest FIFA rankings to be released on Thursday and will create five two-leg ties, with the winners going to the finals in Brazil. The draw for the playoffs will take place in Cairo on September 16, with the two-leg ties coming off in October and November.