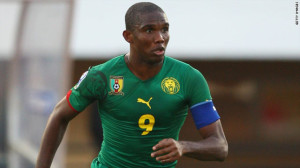 Cameroon striker Samuel Eto'o has retire from the Cameroon national team after helping his side win the final group game against Libya.
Eto'o who was sent off due to an injury situation
allegedly told teammates that
the victory over Libya is  his last game for his country
.
When the cameroon coach Volker Finke was asked about any retirement, he said Samuel Eto'o can explain it but the coach hinted that the striker had indicated he was giving up international football. "Samuel Eto'o is a great player and it is better that he should be the one to explain things, He is the only one who can explain why he took the decision. Of course, he has given a lot to football in general and for Cameroonian football in particular. I cannot say more than this because he is the only one to explain this", Finke said.
Eto's is of Africa's finest football player,winning two African Cups and an Olympic gold medal with Cameroon and was voted Africa's player of the year four times. He made his debut for his country as a 15-year-old in 1997 and is Cameroon's all-time leading goalscorer.
Samuel Eto'o is yet to make official notice to the Cameroon FA.