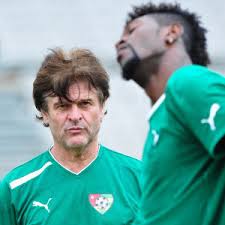 Emmanuel Adebayor was absent from the list of the Hawks who played the game of the last day of qualifiers for the 2014 Brazil World Cup against Congo.
But he was in the stands this Sunday.
The Tottenham striker even came in the locker room with his teammates to encourage the selection. The Hawks coach Didier Six returned to this new collaboration with the captain of Togo.
"This is a group that lives well. It is a foundation that has been placed for the 21 months that I am in Togo. I told the president of the republic you have a group. And I incorporate Sheyi in it. He was with us in the locker room and for that I am very happy, "stated the coach of the selection of Togo during the press conference.
The French technician and the captain of the Hawks had had verbal altercations.