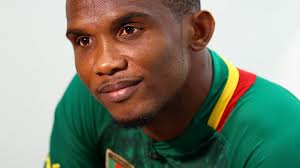 In an article from our colleagues of Camfoot, Joseph Valery Fotso speaker of Amadou Ahidjo stadium in Yaounde says the words of Samuel Eto'o in the locker room to announce his international retirement.
"With the arrival of his teammates in the locker room, Samuel Eto'o greeted them and asked everyone to come together, because he has a little statement. Each rose from his seat and approached the table as well as the coach Volker Finke, Sylvain Monkam, the physical trainer and even Emmanuel Ambane, psychological trainer. Was missing, but slightly behind him (Samuel Eto'o) was Alexandre Song. Samuel asked: "Where is Alex? ". And he said behind him: "I'm here, captain." Samuel said, "you must come closer", before saying this: "Thank you guys. Thank you for everything you have done for me. It is thanks to you, everything we have done together that i am where i am. I'm leaving you, I'm leaving. You chose Nicolas Nkoulou as captain. Encourage and support him. In every family, there are problems, there are difficult times. The most important thing is to manage. Stay united. The future is in front of you. You know, around us, it is too talkative. Avoid listening to gossip. I'm leaving you and I'm sure there is a great team of Cameroon that is growing up. God bless you and I wish you good luck. "
Cameroon that defeated Libya 1-0 Sunday in Yaounde could play the dams of the 2014 World Cup without the Chelsea striker.