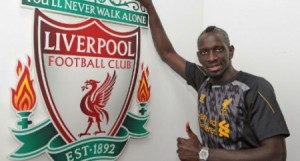 Having left PSG, his first club, due to a stiff challenge, Mamadou Sakho is not out of the woods by signing in Liverpool. The French international will assume his choice by winning a place in the Reds' defense, because there is no guarantee for his playing time.
This is what suggested Jamie Carragher in an interview on the club website. "Sakho is more on the left, and there is competition everywhere. Cissokho (Aly) was recruited to put pressure on Enrique, Skrtel is very powerful at this time, and Kolo Toure was the revelation of the beginning of the season, says the former vice-captain of Liverpool. Always look for challenge, but you do not want your best players to be on the bench. I think the coach will test everyone, and then align the top two. "
And Sakho, who signed a 4 year contract, is not, for now, part of  the best of Brendan Rodgers if we stick to one of his latest releases. "Kolo Toure is the kind of character I like to have in my defense, an organizer and a leader. I think we need such leadership, either alongside Daniel Agger or Martin Skrtel", said in the columns of the Liverpool Echo, the Reds coach. As you can see, he did not mention his latest recruit in the defense. The challenge promises to be tough for the Franco-Senegalese.