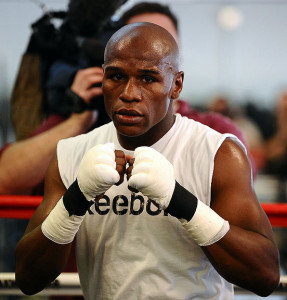 The world's highest paid athlete, Floyd Mayweather Jr,  has admitted that opponents are selected with care to protect his reputation, as he choose opponents who cannot break his unbeaten record. The undisputed pound-for-pound king, has amassed a 44-0 record from a 14-year career, with victories against some impressive fighters including Oscar de La Hoya, Ricky Hatton, and Miguel Cotto.
Mayweather's super-welterweight world title encounter with Mexican power-puncher Saul 'Canelo' Alvarez on Saturday represents arguably the toughest test of his career. But the 36-year-old openly admits many of his previous opponents were indeed selected to ensure easy wins and a bulging bank balance.
"Sometimes they say, 'Well, Floyd Mayweather's opponents was handpicked.' That's a good thing," Mayweather said during a conference call with reporters ahead of Saturday's fight. "I commend my team … when I sit back and I think about my career, I say 'you know what? I had a cool career. I didn't take any punishment'.
The fight with Alvarez is the second in Mayweather's six-bout, 30-month contract with American cable network Showtime that could pay him more than $200 million.