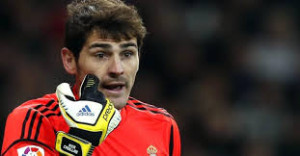 Relegated to the bench at Real Madrid by Diego Lopez, since last season, Iker Casillas is not yet out of his calvary.
If he still enjoys the confidence of Vicente Del Bosque in national team, it is not excluded that the captain of the Roja (150 caps) can be evicted by the competition, due to his lack of playing time in club. In the viewfinder of certain formations in the Premier League, Casillas could be tempted by a new experience. A contingency that does not consider Zinedine Zidane. "I do not think Casillas will leave the club, but it will be better to have a face to face discussion," said Carlo Ancelotti's assistant.
With the World Cup over the horizon, if his situation does improve hence the winter transfer window, the calling of Manchester City or Arsenal could seduce Casillas who made all his classes with the Casa Blanca.