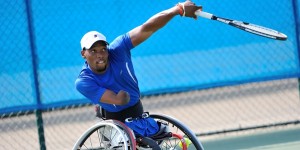 This is a first in the history of Africa. An African has won the prestigious Grand Slam tournament of the US Open in the United States. This is Lucas Sithole who triumphed in the men's singles for the disabled. He dominated in three sets (3-6, 6-4, 6-4) the world's number one, the American David Wagner.
Sithole distraught both of his legs and his right arm in a train accident in Dannhauser in the KwaZulu-Natal in 1998. Since then, he began doing sport with more or less success. "It all started when I finally came to accept my new state after the accident. I did not want to hide myself and my elementary school helped me a lot, "said the 26 years to the South African Press Agency (SAPA).
Sithole's victory at the US Open the past weekend was greeted with pride in South Africa. "We are very proud to have a champion like Sithole", told Bongani Zondi, the President of the Tennis Federation. Already present in the Paralympic Games in London last year, Sithole aims now for Rio 2016 as pointed out by his coach Holger Losch. This victory in the (U.S. Open) allows him to move to the second place in the world.