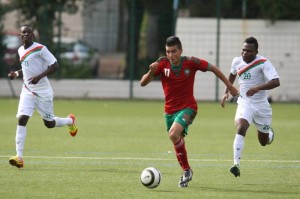 Wednesday were played the last group match of the football tournament of the 2013 Francophone Games. At the end of that day, we know the table of the semifinals.
Beaten (0-1) by the "Cubs" of Cameroon during the first day of the Francophone Games, the "Atlas Cubs' Wednesday snatched their first win of the competition against Burkina Faso (2-0) . Chad declared package allows Morocco to qualify for the semi-finals.
In Group B, Senegal beat Haiti on the score of 3-0 and occupies the first place ahead of Gabon that crushed Lebanon by 4-1.
In Group A, Ivory Coast atomizes Niger 4-0 with a quadruplet of Roger Assalé.
Program
Friday, September 13
Ivory Coast – Senegal
Morocco – France