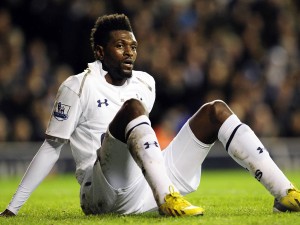 The news is still not good for Emmanuel Adebayor. Asked on Thursday about the current situation of his Togolese striker, the Portuguese coach of Tottenham simply said that Emmanuel Adebayor will train with the club's reserves on his return. The player is currently in Lome (Togo) to resolve family problems in Togo after the death of his brother.
"For the moment, Ade is not with us, because we have granted him a permission to remain in the country until Monday for personal reasons, then he will not be in the group against Norwich (Saturday)" said Villas Boas. If Emmanuel Adebayor has reiterated his commitment to stay and succeed at the Spurs this season, it is clear that the coach not include in his plans.
"Until I find it necessary to reinstate him into the pro group, he will train with the reserve team", added the former Chelsea manager. True saga of the summer transfer window, Adebayor was asked by the club to seek a way out. In vain.
The Togolese now faces a rude challenge particularly with the arrival of the Spanish Roberto Soldado, the N° 1 choice of Villas-Boas. Adebayor nevertheless appears on lists registered with the Premier League and UEFA for this season.