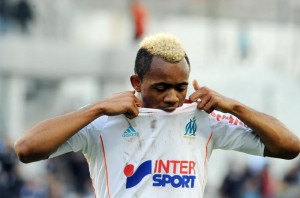 With players like Andre Gignac and Saber Khelifa in Marseille camp, Jordan Ayew is struggling to earn more playing time for his darling club Olympique Marseille.Ayew has made only three appearances for the club all as a substitute.
As a result of his inability to secure  more playing time,the 22-year-old came close to securing a loan move to English side West Brom Albion and French Ligue 1 side Saint Etienne. Marseille coach  Elie Baup has now promised to give the young chap a playing time.
"We started the season well and we do not change a winning team, he must bide his time and when the time comes, he will have his chance," Baup said. "Jordan will certainly play more often, but he should play better and this is the truth." The lack of game time has affected Ayew's international career.