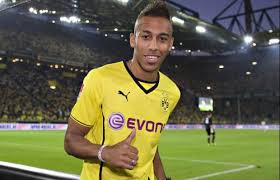 Pierre-Emerick Aubameyang is back. He proved it on Saturday by scoring twice for Borussia Dortmund against Hamburg (6-2). In a dramatic match, the Marsupials take an early lead thanks to the Gabonese who took advantage from a long ball from Schmelzer to put a fly in the cages of HSV.
His Mkhitaryan teammate imitates him a few moments later but at the break, Dortmund leads with just a goal ahead. Moreover after the restart, the visitors regained control of the game and equalized. It was the time chosen by the European Vice-Champion to press the accelerator. Aubameyang newly houses a shot under the bar before Lewandowski also scores twice.
Marco Reus finally closes the festival of goals for the BVB. 6-2 final score. Dortmund is leading the Bundelsiga ahead of Bayern Munich also winner 2-0 in Hanover.
Check out the two achievements of Aubameyang
[youtube]http://www.youtube.com/watch?feature=player_embedded&v=hVcDKpI-Hho[/youtube]