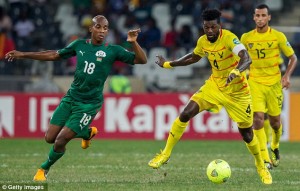 Sent to the reserve team of Tottenham for this beginning of the Premier League, Emmanuel Adebayor still has not rejoined the selection of Togo.
On behalf of the last victory of the Hawks against the Leopards of DR Congo (2-1), the former Arsenal player was in the stands.
Coach Didier Six that still wants Adebayor had not convened him for that game.
His absence did not prevent the rest of the group to win the points of victory.
Hence the question: "is his presence in the Hawks that important?" This man answers a big "No" with no fear of giving his personal opinion.
This is one proof of the Togolese freedom of speech!
[youtube]http://www.youtube.com/watch?feature=player_embedded&v=9ucp4qp_smQ[/youtube]