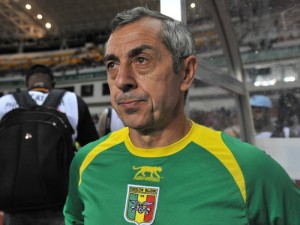 Qualified for the African World Cup 2014 playoffs, the Lions of Senegal, as all qualified, will be determined on their opponent this September 16 at the end of the draw.
The coach of Senegal would not fall on the African reigning champions and the first African nation in the FIFA rankings.
In an interview relayed by senenews, Alain Giresse said he wants to "avoid Ivory Coast and Nigeria," two selections housed in hat A. "But it's still a wish as long as we do not control the draw," says the Senegalese coach.
11th selection of the latest FIFA rankings, the Lions "will not be favorites" for the qualification believes Giresse. But even if they do not have a favorite status, the Lions have equal opportunity with the likely opponent for the Brazilian World Cup playoffs according to his analysis: "At this level, there is no smaller team (…). Only the major nations meet such an appointment".
After the draw, the ten survivors will cross the spikes in doubles legs (editor's note, 11-15 October, first leg games and 15-19 November, the second leg games) to discover the five African representatives for the World Cup Brazil 2014.