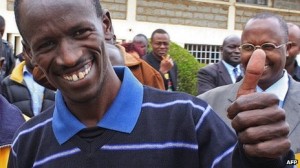 "I represented Kenya for thirteen consecutive years. I will finish my career in Rio 2016". It is through these words that the double Olympic 3,000 m steeplechase champion Ezekiel Kemboi announced Tuesday his retirement at a ceremony in the town of Eldoret, in the Rift Valley (Kenya).
At 31, the half-depth established his dominance over the field during the 2000s. World gold medalist in Moscow, he rose three times on the highest step of the podium of the world's Champions (Berlin, 2009, Daegu 2011 and Moscow 2013), and won three times the silver medal (Monaco-2003, Helsinki 2005 and Osaka 2007). Sacred for the first time Olympic champion in 2004 (Athens), the native of Matria enters the history of athletics after the 2012 London Olympic gold in front of the second athlete to repot the gold medal in the 3,000 steeplechase in the Olympic Games after the Finnish Volmari Iso-Hollo in the 1930s.
He plans to leave the track at the Summer Games in Rio-2016, with a third Olympic medal.