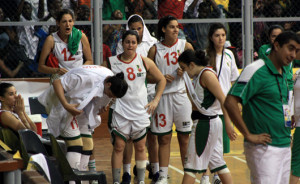 Absent during the previous four editions, the Algerian team of basketball (women) revives the Afrobasket, on the occasion of the 23th edition, which runs from September 20 to 29 in Mozambique, Maputo.
For its eighth participation, Algeria placed in Group A alongside with the host country, Senegal (10 times winner of the tournament), Egypt, Côte d'Ivoire (gold medalist at the recent Francophone Games) and Zimbabwe.
After a series of internships, Sofiane Boulaya has released her list of twelve players who will try to "give a good image of the Algerian women's basketball," with the "objective of managing the competition game by game," he told.
List of players selected:
Rachida Belaidi, Nadia ISWI, Nesrine Taibi, Ikbel Chennaf Amina Boukerma and Chahinez Boushaki (GS Oil) Saidani Sofia (HBM), Lylia REFES (HT Annaba), Nesrine Meribout (HS Annaba), and Meriam Medhoui Samia Boudjrima (OCA) , Ouahiba Aissani (Wasquehal, France).