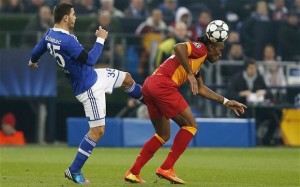 The Elephants' fans hold their breath. It would be a blow for Ivory Coast if Didier Drogba should not be included in the squad for the first leg of the 2014 World Cup dams against Senegal. The striker was seriously injured on Tuesday in the Champions League after a duel with the Portuguese Pepe.
While trying to control a long ball from his keeper, Drogba is shoved in the back by Pepe and falls on the ground. Very quickly, the former Chelsea player is holding the left shoulder which seems to be out of its cage. He screams in pain and medical intervention of Galatasaray will not change anything. Drogba gave way at the halftime of a nightmare match for Cibum (1-6 defeat) See all goals.
It would be a dislocated shoulder that requires several weeks of downtime. Galatasaray announced that the player has started treatment.
Drogba is already doubtful for the first leg of the 2014 World Cup dams that opposes Ivory Coast to Senegal.