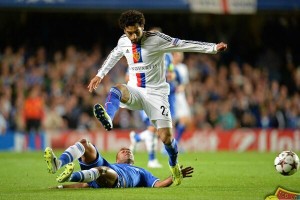 How did African internationals perform during the second night of the Champions League played Wednesday ( read the summary of the first night ) ? Here's our summary.
We expected to see Samuel Eto'o shining with Chelsea for his return in the most prestigious competition. But it is a young Egyptian already coveted by the old continent who has confirmed his talent. Yet many Cameroonians appeared in the starting lineup for the Blues. Tenured, Eto'o has not really affected the Swiss defense . Even the Senegalese Demba Ba who got into play in the second half changed nothing. By cons, Mohammed Salah , in the image of his training, without complex has caused much worries to Ashley Cole before scoring . Final Score 1 for Chelsea 2 for FC Basel which also included in its ranks the Ivorian Giovanni Sio .
Boateng regains in Schalke 04 !
AC Milan yet deprived of nine senior players of its staff did not miss its starts in the Champions League . Spurred on by its Ghanaian striker Sulley Muntari , the Rossoneri have won 2-0 at Celtic. The Guinean Kevin Constant held his place in the Italian ranks. Opposite, the Nigerian Efe Ambrose was overwhelmed.
Alexandre Song has also enjoyed the beautiful win of Barcelona 4-0 over Ajax. But it is from the sidelines that the Cameroonian followed the entire meeting . Including the festival of Lionel Messi.
Here's how a transfer your sources can change careers. Kevin Prince Boateng broke since he joined Schalke 04. First game, first start, second game, first league goal, and then came the Champions League. A competition he called the AC Milan before heading to Gelsenkirchen. The Ghanaian scored again in the 3-0 victory of the Germans over Bucharest.
The disappointment of Aubameyang !
For a start, he had dreamed better. Pierre- Emerick Aubameyang left the stadium in Naples with a sense of unfinished business Wednesday. Already substitute at the kickoff, the Gabonese had his club Dortmund battered and reduced to 10 before halftime. Despite entering after the break, he could not help. 1-2 defeat.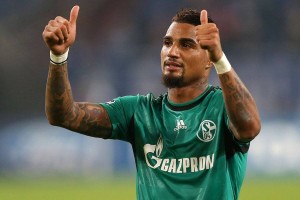 There were at least three African International to kick off the meeting OM against arsenal. despite their desire , Alaixys Romao , Andre Ayew and Nicolas Nkoulou could not prevent the 1-2 defeat against the Gunners . It took the coming intogame of Jordan Ayew to reduce the scoring . Tunisia's Saber Khalifa also played his first minutes in C1.