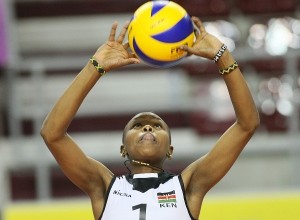 The selection of Kenya is the only team still unbeaten in African women's volleyball Championships taking place in Nairobi. Opposed to Cameroon, also undefeated before the confrontation, Kenya, led by Mercy Moim – best striker of the game with 17 points, won 3 sets to 0 with 25-22, 25-20, 25-22.
With the win, Kenya African reigning champion, gets a ticket valid for the next World Cup.
In other posters of the fourth day, Tunisia dominated Senegal 3 sets to 1: 25-14, 25-16, 18-25, 25-22. The plight of Algeria, vice-champion of Africa continues. The Algerian women were inclined to a tie-break against Egypt 20-25, 25-21, 25-19, 24-26, 15-12.
This 16th edition of the African championship volleyball CAVB ends Thursday with confrontations such as: Algeria – Cameroon, Kenya – Tunisia and Egypt – Senegal.