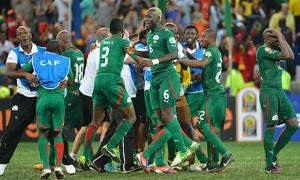 To motivate the Stallions to snatch the qualification for the World Cup Brazil 2014, the Burkinabe government has promised to the players and the coaching staff a special bonus for the two matches against Algeria in the playoffs.
"There will be a special bonus for the final round of qualifying to the Brazilian World Cup. With the President of the Federation (FBF), we will all see what there is to do in this regard", Colonel Ouedraogo promised to Burkinabe daily Le Pays.
The first leg of the dams will be held between 11 and 15 October in Ouagadougou while the return match will take place between 15 and 19 November in the Mustapha Tchaker Blida stadium according to the draw made Monday in Egypt.
The Sports Minister really believes in a qualification if the Stallions make a good game at home, "the Stallions have shown that with them there is no match abroad. They must pass the maximum in Ouagadougou and I am convinced they can achieve by scoring a lot of goals. "
Government does not want to skimp on resources to support the group of Paul Put to a historic qualification to the World Cup. "We will put the necessary resources available into the team for the two games. And I can assure you that the Prime Minister had already instructed us in this direction, "said Colonel Yacouba Ouedraogo.