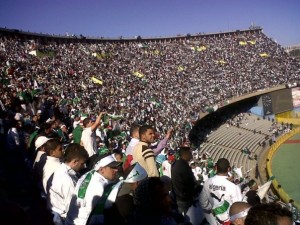 As Africa Top Sports.com has just reported, two fans were killed Saturday in the derby of the Algerian capital that opposed USM Alger to MC Alger. It was the collapse of the stands of the Olympic Stadium July 5, 1962, that killed two spectators.
With a capacity of 110,000 seats and built in the early 1970s and has undergone several renovations, the stadium hosted the Afcon 1990. It had to be upgraded again.
We know a little more: the drama took place in the gallery 13 in the second half. The Director of the Office of the Olympic Complex, Youcef Kara said that a 1m70 hole was caused by fans who were jumping….
According to the director of the stadium, "overload at that side of the stadium and the large number of supporters eventually cause the incident".
The atmosphere is very hot in Algeria.
Here are the first images of this drama!
[youtube]http://www.youtube.com/watch?feature=player_embedded&v=9vfz9mRiDjs[/youtube]