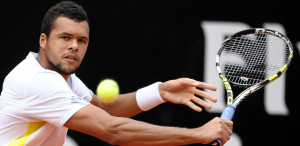 Committed on both tables of the Open de Moselle (single and double ), Jo -Wilfried Tsonga will be tonight in the Metz Arena for two finals. Before returning to his teammate Nicolas Mahut for the doubles final opposing them to the pair Johan Brustrom -Raven Klaasen , the world No. 8 crosses the racket against his compatriot Gilles Simon to the final of the singles.
Double defending champion Tsonga "somewhat affected" must overcome the accumulated fatigue due to his presence in the two tables , to overcome the seeded No. 2, winner of the tournament in 2010. As in the quarterfinals, the Franco -Congolese had to use three sets to overcome the obstacle Florian Mayer , 4 /6, 6 /2, 6 /3. Simon on his side eliminated Mahut in straight sets, 6/3 7/6 [ 7-2 ] .
"The final will be a tough game. I really have no rhythm, I'm a little touched, I played also in double, and I am in the final. The number one factor will be how I'll feel tomorrow (Sunday) morning. Depending on that, I can boldly defend my chance. Gilles is a good player. I think we are worth meeting in the final ( …) I am 100% in the head, after all, it's still a game of tennis, everything and anything can happen. I will defend my chances, I'll do what I can, "he said after the semifinals in the double.
After this final that could enable him to achieve a triple in the single , Jo -Wilfried Tsonga, associated with Nicolas Mahut will return to the court for the doubles final against Sweden's Brunstrom and the South African Raven Klaasen . The French pair qualified at the expense of the Australian Paul Hanley and the Bréslien Andre Sa, 6/2, 6/7 [ 7-2 ] , 10-4 . Johan Brunstrom and Raven Klaasen have dismissed Edouard Roger- Vasselin and the Indian Rohan Bopanna 6-4, 6-7 [ 9-8 ] , 10-6.