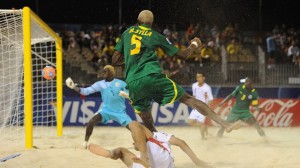 Last group C and D matches this Sunday in Tahiti for the 2013 World Cup Beach Soccer. Concerning the two African representatives, one will compete for honor while the other will fight for a place in the next round.
With its second straight defeat on Friday against Russia, Cote d'Ivoire has completely bade farewell to its dream of qualifying for the quarters. The Elephants are completely missed out on their competition with regards to their preparation. Only seven players have joined Tahiti for visas problems. This last outing against Japan will just lead them back to Abidjan with at least one victory.
Senegal however still has further opportunities. Defeated by Iran in its second outing, the Lions have much to do today against Brazil already qualified with two wins in two games. But the selecção is seeking supremacy in the group and probably will not joke with the West Africans. Koukpaki and his teammates will have to redo the same thing as against Ukraine in the opening.
Program
Group C
Iran-Ukraine
Brazil- Senegal
Group D
Japan-Ivory Coast
Russia-Paraguay