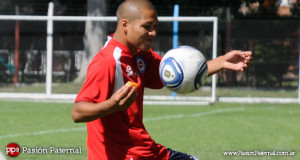 Maybe you're not going to believe it. But this gesture from the South American football was invented that Sunday evening. In the match between Argentinos Juniors and Boca Juniors, two Argentine clubs, the player Iñíguez Gaspar made a gesture to say the least improbable: a head tackle. Yes, a head tackle!
A gesture certainly unusual, but not voluntary. The unfortunate defender slipped while taking support.
But the referee of the meeting did not see things that way. He simply imposed a yellow card to the Argentinos midfielder for this new kind of tackle. A hilarious gesture!
Enjoy it in this video!
[dailymotion]http://www.dailymotion.com/video/x151qu5_un-joueur-invente-le-tacle-de-la-tete_sport?start=30[/dailymotion]