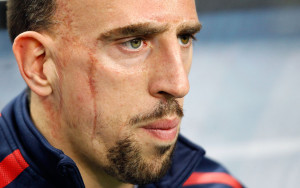 France Football in its edition dating tomorrow Tuesday, September 24, has produced an illuminating survey on the popularity enjoyed by Franck Ribery on both sides of the Rhine. And among the French citizens interviewed, only 29% reported having a positive image of the international tricolor, against 64% in Germany.
In France, only 25% considered the Bayern player as the best French player today. While in Germany, they are 63%.
Ribery is now reaping the consequences of the problems he had there with the Blues during the 2010 World Cup. Since 69% of his countrymen surveyed believe that his talent today does hind his involvement in the Knysna affair.
This opinion reflects necessarily trench on his legitimacy and perhaps risk of penalizing him for future awards. And because only 24% of Frenchmen believe that the Munich player deserves the Golden Ball according France Football.