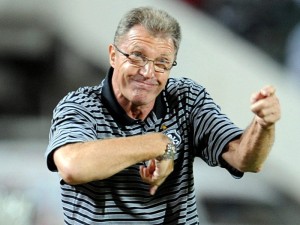 Ruud Krol, as we told you, will be assisted by Adel Sellimi and Hamadi Daou for the two matches against Cameroon. The Carthage Eagles coach has officially introduced his staff to the dams of the 2014 World Cup on Monday. A team consisting in major part of the staff of CS Sfaxien. This choice is justified by the issue of his mission, namely a qualification for the Brazilian World, has he explained.
Tunisia was recovered on the decision of FIFA and the Dutchman believes a full involvement of all Tunisians is required in order not to miss this chance to be in Brazil "Qualifying for the World Cup is a dream! Tunisia has got a second chance, it needs to grab it with both hands (…) It is necessary that every single Tunisian concerned does his utmost for our goal to be achieved. We will start by viewing our opponent and then choose the most ready players and prepare the first leg (…). The one [the player] who does not feel at the top has to stay home! We need players who whoop. "
The first leg scheduled for October 13 should take place in front of about 50,000 fans.