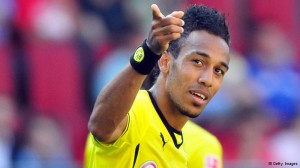 Borussia Dortmund can say thank you to Pierre-Emerick Aubameyang. The Marsupials were in big trouble Tuesday in the German Cup on the lawn of Munich 1860. After a goalless regulation time 0-0, Dortmund owes its salvation only to the coming in to play its Gabonese striker. Aubameyang replaces Kuba and quickly made the difference.
Marcos Reus was cut down in the surface for Aubameyang to score the penalty in the 105th minute. Later Mkhitaryan added a second goal for a 2-0 win for Dortmund.
This is the 6th goal of the season in all competitions for Aubameyang.
See the goal here!
[youtube]http://www.youtube.com/watch?v=dPV3hnkrodg[/youtube]