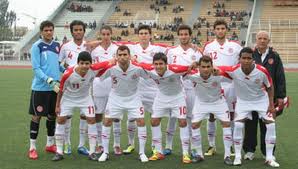 List of Tunisian players for retained for the training camp before the World Cup Under-17 was unveiled by Abdelhay bin Sultan, the team coach. A total of 21 patriots were selected and will constitute the group that will go to the competition. The U17 World Cup begins on October 14. But before that date, three friendly matches will be played by the Ben Sultan foals. The first against Malaga (Spain), the second against Argentina and the last against Libya.
Here is the complete list of players selected:
Sabri Akrout, Wassim Naghmouchi, Marouen Sahraoui, Hamza Ben Cherifia, Moez Abboud, Bilel Mejri, Nidhal Ben Salem, Chiheb Jebali, Ghazi Ayadi, Khalfi Kouni Rached Arfaoui, Mohamed Ali Ben Salem, Hazem Haj Hsan, Omrani Ameur Maher Gabsi, Bahaeddine Othmen Yasser Sellimi Firas Belarbi, Khalil Hnid Sabri Ben Hassine, Charfeddine Ghidaoui.