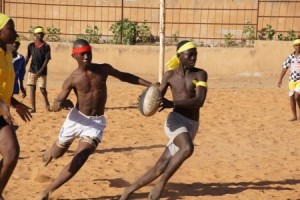 The Nigeria Rugby Football Federation (NRFF) is in support of Sports concession by the National Sports Commission(NSC). NSC last year said that some of the lesser sports in Nigeria would be given out to private/corporate organisations to manage,but the Sports ministry later back-tracked on the decision to give out management of these sports.
However President of the Rugby Federation, Richard Ajayi has called for concession to be brought back in Nigerian sports, adding that it has helped the growth of less fancied sports.
"Prior to 2009, there was no structure or strategic plan to develop rugby in Nigeria. The new NRFF board put an emphasis on youth development and based on it's strategic plans, rugby is now being played by 32 schools in Lagos through the support of Promasidor Nigeria Limited, under the Cowbell i-Try Programme," Ajayi is quoted as saying on the Guardian newspaper.
"This programme began in 2010 as a pilot scheme for youth development and today there are over 3,000 children (boys and girls) playing rugby in Lagos State schools. The success of the programme in the last three years has encouraged Promasidor to commit to expanding the programme to Kano State," he said.
"Another strategic aim of the NRFF Board in 2009 was to raise the visibility and awareness of rugby. In order for rugby to be visible and for the coaching, playing and refereeing standards to improve, regular annual fixtures and competitions had to be created. Such competitions as the Lagos 7s, Northern 7s, Kwara 7s, and Lilieker 7s are platforms that succeeded to growing the visibility and standard of play of rugby. This has helped domestic development."