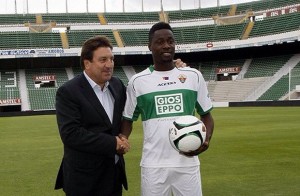 Real Madrid is still not in the game at this beginning of the season. And yet, the big games are already coming. New illustration of this small form of the Merengue Wednesday during the 6th day of Liga and the difficult victory of Carlo Ancelotti and his men in Elche (2-1), promoted to the Spanish first division.
The task was hard for the teammates of Ronaldo. They can also say thank you to their star striker who scored twice with a goal from the penalty spot in the 96th minute. It is this realization that is causing a big controversy in Spain this morning. The penalty awarded to Pepe was not one and Pique was quick to raise it on Twitter. This thus sparked some discussion on the famous social network with Arbeloa.
Boakye, missed hero!
Led 1-0 on a free kick from Ronaldo in the hour mark, Elche nevertheless maintains the pressure and causes many problems to Real Madrid. Richmond Boakye leaves the bench at 10 minutes to the end and ignites his stadium. The young Ghanaian striker scoring on his debut with his new club, rehearsed by deflecting a shot by a head butt.
The stadium boiling until the 96th minute when a penalty occurred. Ronaldo was not pledged before changing the atmosphere.
See the goal of Boakye!
[youtube]http://www.youtube.com/watch?feature=player_embedded&v=JXSByAxaICg[/youtube]