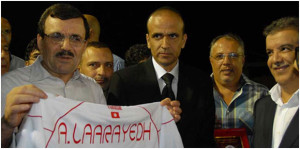 Prime Minister of Tunisia, Laarayah Ali did not appreciate the decision of the Minister of Youth and Sports on the dissolution of the Tunisian Football Federation.
This intervention of the head of the Government is secondary to the letter sent by the Minister Tarek Dhiab to FIFA, asking him to dissolve the current federal office.
Some have considered this letter to FIFA as a settling of accounts between Tarek Dhiab and Wadii Jarii.
But the body of world football does not kid about government interference in football affairs. If such a case arises, the selection and clubs will be deprived of continental and global competitions. A sanction that could deprive the Carthage Eagles of a fifth appearance at the final phase.