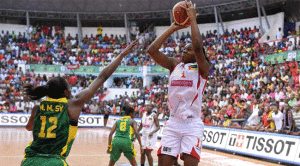 Mozambique-Senegal, this poster of the female Afrobasket played Wednesday was not yet the final of the competition. We are still far from this point. But the public of Maputo would not be seeing this game at the top of Pool A and the fifth day that closed the first phase of the female African basketball championship, as both teams have marked spirits since the opening.
Inflicting losses of more than 100 points to their opponents, both teams already qualified, just battled for supremacy in the group. Security was quickly overflowed by the fans who wanted to live this match, which saw Pape Moussa Toure bowing.
In a room packed to the rafters, the host country has dominated the vice-champion. With such a crowd (see video) we could stand dreaming of a final between the two selections.
[youtube]http://www.youtube.com/watch?feature=player_embedded&v=zzIqtZ1QyIo[/youtube]