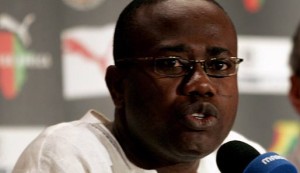 The President of the Ghana Football Association (GFA), Kwesi Nyantakyi, dropped a strong hint of goalkeeper Kingson's possible return to the Stars' fold following his good form for Doxa in the top flight league in Cyprus.
When the president was asked why the goalkeeper was out of the team, he answered that " It was because he became clubless," Nyantakyi told Accra-based Joy FM. If he is now playing, it means that there is every opportunity for him to come back provided he is playing and playing well.
"For such a veteran goalkeeper, I believe if he is indeed playing well, he will get the chance to come back into the team. It will be a big boost to the team's chances of qualifying for the World Cup.
"With Richard Kingson, you can go and sleep. If he is in good form, he is the safest pair of hands in the country," Nyantakyi vouched.
Kingson, 35, was key in Ghana's two FIFA World Cup success stories in 2006 and 2010 but lost his place in the Stars squad after his contract with then English Premier League side Blackpool expired two seasons ago.