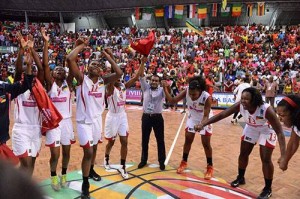 The final of the women Afrobasket opposes Mozambique to Angola on Sunday. Mozambique host country has defeated Cameroon, before Angola terminates the ambitions of Senegal in the semi- final played on Saturday.
The money Time deadly for the lionesses of Cameroon
Despite starting with a bang (11-0 ), under the lead of Ramses Lonlack very verve with 15 points and 4 steals and won the first quarter 23-9 , Cameroon was defeated 61-57 and missing the opportunity to compete in the final .
Led 24-37 at the break, Mozambique returns more aggressive at the defense and dominated the third quarter 13-8. Supported by its audience which regained its voice after the cold shower by entry, the interior pair Leia Dongue (15 points) and Clarisse Ambrosi (13 points) , allows the host country to reduce the points gap (48 – 50) at 6 minutes to the end and then took control of the match at two minutes to the end for the first time ( 54-52 ). Cameroon's Lionesses could not resist and bowed to the delight of the fans of Mozambique.
The Senegalese Lionesses absent in the last quarter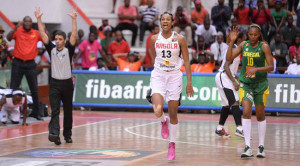 The second semifinal was a rematch of the 2011 final Afrobasket women. Dethroned by Angola in Mali, Senegal which swore by the title had an opportunity to take revenge . But the champion winded since the start of this edition has been able to fulfill a 9 points delay at the start of the last quarter time to win 46-43, thanks to Mauricio Nasiccela (15 points 5 rebounds and 5 steals) and Felizerda Jorge (11points). Due to a totally tasteless last quarter (16-4) Astou Traore (15 points) and co stop in the semifinals.
The Cameroonian and Senegalese lionesses will compete for the bronze medal before the final between Angola, reigning champion, and Mozambique who dreams of being crowned at home.
A burning derby in the final
The defending champion will defend its title tonight against Mozambique in a derby which promises to be burning. If Mozambique impressed people since the start of the 23rd edition of the Afrobasket with a fire attack, Angola has proven it remains a force always imperturbable that can reverse situations. These two selections are the only unbeaten in the tournament.