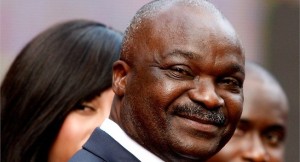 Convened by Coach Volker Finke while he announced his international retirement just after the qualification of the Indomitable Lions against Libya (1-0), will Samuel Eto'o change his mind and rejoin the national squad?
The draw of dams accounting for qualification to the World Cup Brazil 2014 suggested Tunisia as opponent of Cameroun. For this special meeting, several officials claim the return of Eto'o.
Roger Milla, one of the icons of the Cameroonian football is personally committed to bring the Chelsea striker in selection, if asked.
"If you ask me, I will do it even for free. If I should go and bring Eto'o back, I will. I'll see, but that does not mean I'll come back with him. If it turns out that he no longer wants to play, he will first have to accept a return. I was not in the locker room when he announced his retirement. It is the following day that I learned it. He was summoned by the coach. Now, we must wait until he accepts the invitation for us to be fixed. For me, he is still part of the workforce of the Indomitable Lions and we are counting on him for this qualification for the Brazilian World 2014. I personally want him to be with his friends to qualify Cameroon", released Milla on the website of Camfoot.