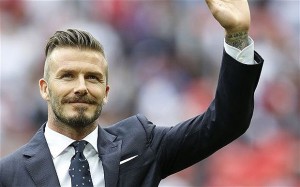 Twelfth of the English league standings! With only seven points!
Nothing is alright with Manchester United which was humiliated at home by West Bromwich (1-2). – See all goals–
David Moyes, who has replaced this summer the legend Sir Alex Ferguson, is already on the spot!
This is the third defeat in six matches for David Moyes whose situation is getting complicated. Manchester United is in real trouble while Arsenal is the new leader of the championship and widens gaps…
Can Alex Ferguson leave his comfortable retirement to save his club? The fans begin to beg…. He left the bench in May after a 13th league title in England with 27 years of presence at the head of Manchester United.
But it will be difficult almost impossible to see him back…
Suddenly, all eyes are turned to another former Manchester United player David Beckham. Since leaving PSG in June, he did not play, and fly to rescue his club would not displease him even if he has not got all the necessary qualifications.
But it is always easy to get around things.
He has a charisma that no one disputes. Still, he wants to take over the presidency of a football club in Miami to launch the sport in this region.
All this is still very far from Manchester…
But let's see what will happen next!