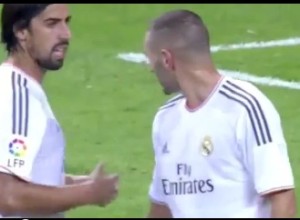 Is Real Madrid in crisis as Manchester United?
It bowed yesterday on its lawn against Atletico (0-1) …
Not surprisingly, the Bernabeu public sparked a huge uproar that targeted again Karim Benzema.
But the latter has been attacked on the ground by Pepe as can be seen on this video.
Sergio Ramos was fortunately there to separate the two men.
Carlo Ancelotti tries to calm the game: "We need a better attitude, more concentration, a clearer idea of game. This moment is not easy because it is not good to lose a game at home but I have to think of all those things for us to improve quickly and solve the problem".
Five point behind Barca today – bad news Lionel Messi was injured.
[youtube]http://www.youtube.com/watch?feature=player_embedded&v=MsHxtZbP_s4[/youtube]