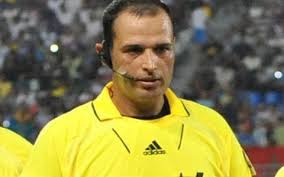 Moroccan referee Bouchaib El Ahrach will handle Ghana's Brazil 2014 World Cup first leg playoff at home against Egypt.
El Ahrach will be assisted on the lines by fellow countrymen Yousef Mabrouk and Mohamed Al Ahmdi.
The 41-year-old was at the centre referee of the 2012 Cup of Nations qualifiers between Senegal and Ivory Coast in Dakar which ended in chaos. El Ahrach awarded a late penalty to Ivory Coast and recklessly showed Senegal defender Jacques Fathy the red card.
Al-Ahmadi refereed the CAF Champions League final last year, in which Ahly won 2-1.