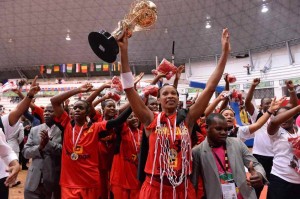 The 23rd edition of the female Afrobasket ended Sunday with the coronation of Angola. The 2011 African champion retained its title by defeating Mozambique, the host country in the final. Both teams will represent Africa at the next world championship of basketball, Turkey 2014.
Senegal finished third on the podium.
The Angolan captain Naceesela Mauricio keeps the MVP acquired in 2011. The 33 year old winger elected MVP in 2013 is logically part of the five majors of Maputo 2013.
Individual distinctions of 23rd Women Afrobasket (source Fibaafrica)
Best rebounder: Naïgnouma Coulibaly (Mali)
Best tri-pointer: Fatoumata Bagayoko (Mali)
Best scorer: Astou Traore (Senegal)
Best player: Naceesela Mauricio (Angola)
Fair play: Egypt
5 majors of Maputo 2013:
Leader: Deolinda N'gulela (Mozambique)
Rear: Ramses Lonlack (Cameroon)
Winger: Naceesela Mauricio (Angola)
Pivot: Leia Dongue (Mozambique)
Pivot: Astou Traore (Senegal)
Final ranking of the 2013 Maputo Afrobasket
1st Angola
2nd Mozambique
3rd Senegal
4th Cameroon
5th Mali
6th Nigeria
7th Côte d'Ivoire
8thEgypt
9th Cape Verde
10th Kenya
11th Algeria
12th Zimbabwe.