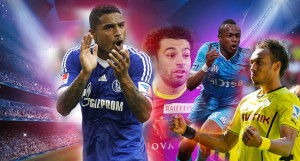 Back to the European Champions League. Beginning of the 2nd day of group stage on Tuesday. Africa Top Sports offers a review of African internationals that will be in the thick of the action.
From Tuesday, we will closely monitor the second output of Samuel Eto'o and Chelsea. Tenured against all odds in the first day, he could not bring the missing efficiency to the Blues. Chelsea moves to Romania and the first goal of the former player of Anzhi is just expected. John Obi Mikel will also be taking part.
Overachiever of Chelsea at the opening of the competition, Mohamed Salah and FC Basel are preparing to receive a club also in great shape. Especially with Kevin-Prince Boateng who scored again last weekend in the Bundesliga. Schalke 04 also wants to chain after its first victory over Bucharest.
The first in C1 for Aubameyang?
Marseille and its African stars- including the Ayew brothers of Ghana – travel to Germany. Already an obligation for the Phoenicians beaten by Arsenal in the first day to win. But it is also a Borussia Dortmund pissed after its defeat in Naples which is waiting for OM. The opportunity perhaps to see Pierre-Emerick Aubameyang, frustrated in Italy, planting his first pawn in the Champions league.
Not sure that Alexandre Song will be the key player in the match Barcelona-Celtic. But the Cameroonian could benefit from a turnover of Tata Martino to get a place in-between the blaugrana game. In the other match of the group, the Guinean Kevin Constant and AC Milan move to the Netherlands at Ajax Amsterdam which has in its squad South Africa's Thulani Serero.
Follow every game of the day on our Facebook page!