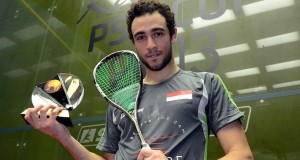 Egypt's world number one Ramy Ashour extends his unbeaten run to nine tournaments and 45 matches with an 11-4 7-11 7-11 11-3 11-2 victory over France's world number two 
Gregory Gaultier
 in the final of the 
PSA International 70
 in San Francisco. Both men will be heading to Manchester for the World Championships, which begin on 28 October.
Egypt's Ramy Ashour moves into his tenth successive month as world number one, according to the new October Dunlop PSA Men's World Squash Rankings published today by the Professional Squash Association.
Ashour, who celebrated his 26th birthday yesterday in San Francisco where he is competing in the PSA International 70 NetSuite Open, is enjoying the best run of his career – unbeaten now in 44 matches in a row and boasting title triumphs in the last eight Tour events in which he has competed.